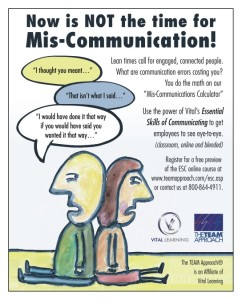 Mis-communication has been one of the most challenging issues for organizations for quite some time (perhaps since the beginning of time).
Obviously the first place to start is with team leaders.  The Vital Learning module, Essential Skills of Communicating, can help.
For teams, we recommend beginning with a basic DiSC program such as Everything DiSC Workplace.
If the team is highly interdependent (counting on each other for the accomplishment of team goals) the most powerful tool we could recommend is The Five Behaviors of a Cohesive Team.
But every organization has its unique issues and concerns, so give us a call to discuss your situation and let us work with you to develop a customized approach drawing on our large tool kit and 30 years of experience.