Vital Learning -Leadership Essentials-Customer Oriented Selling-Productivity curriculum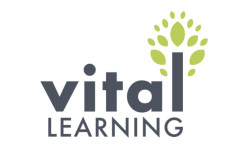 Vital Learning Corporation publishes award-winning employee development content for client users globally.  Over one million learners have improved their business skills and effectiveness through Vital Learning programs. Vital's Customer-Oriented Selling, Supervision Series, and Productivity Skill curricula deliver business results to organizations of all sizes and industry classifications. Formally the training division of McGraw Hill, Vital's Leadership curriculum was the first to use Behavioral Modeling to help supervisors transfer learning back to the job, and the first to offer learning in an electronic format.
The TEAM Approach is proud to be one of the very first Affiliates to bring this learning content to our clients. Vital has always been a pioneer in the application of new technologies for training implementation, and delivers learning content in flexible formats, from classroom to blended, delivered synchronously or asynchronously, Vital curriculum meets the needs of your learners. The Vital Learning Pocket Coach combined with The TEAM Approach's skill drills support supervisors in ingraining new skills to make learning permanent.
Look over Vital's core areas of learning and allow to demo any tool that you wish to evaluate for your learners.