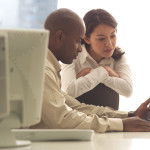 This is available as an Online Course Only. It supports Winning Through Customer Service if that program is delivered in a blended format. 
Effectively managing difficult and hard-to-please customers is challenging, but productively resolving customer issues and concerns can help your organization build stronger relationships with your clients.
Providing quality customer service can result in great reward and satisfaction, but it can also be frustrating for your customer service team. It is essential to give your customer service representatives the skills to successfully manage your customers. In addition to following pre-determined guidelines for dealing with difficult customers, successful customer service representatives must utilize an array of techniques to diffuse challenging situations.
The Vital Learning Dealing With Difficult Customer Situations™ course gives customer service representatives the tools and skills they need to successfully navigate interactions with demanding customers. The course teaches service employees general guidelines for dealing with difficult customers, calming and focusing techniques, problem-solving tips to help customers resolve issues, and how to effectively communicate with customers.
What the Course Covers
How to build a proactive, problem-solving culture
How to communicate clearly and efficiently with customers
How to recognize and adapt to a customer's personal behavioral style
How to identify and utilize a structured process for conducting customer service transactions
Click the "e" to immediately enroll and begin the Dealing with Difficult Customer Situations online course.


Employees who complete this course are eligible to earn college credit toward an associate's or bachelor's degree through the University of Phoenix.