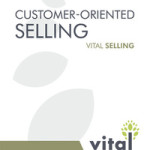 May  be conducted as a one, two or three-day workshop.
Preview a sample of the Customer-Oriented Selling workbook instantly.
Your sales team drives revenue for your organization. But how can your company use sales to create more satisfied customers, more successful salespeople, and better long-term business relationships? The key is giving your sales team the skills and tools they need to build meaningful relationships with customers.
In today's competitive landscape, sales professionals must be knowledgeable about their organization's products and services, as well as the products and services of their customers. Focusing on the customer—knowing and understanding their needs and wants—is critical to a successful sales relationship. Customers want salespeople to understand their needs and help them achieve their specific goals and objectives.
The Vital Learning Customer-Oriented Selling™ course is one of the most comprehensive and flexible sales development tools available. Sales professionals will learn how to effectively sell products or services by focusing on the customer—from planning an initial call through closing. The course teaches salespeople fundamental selling skills, including: how to prepare for and open a sales call, the steps to determine key situational factors and objectives that drive customers' decisions, how to effectively present recommendations and manage sales obstacles, and what it takes to get commitment from a customer. Through Customer-Oriented Selling™, sales professionals will learn how to build successful business relationships by helping customers achieve both their business and personal objectives.
What the Course Covers:   Customer-Oriented Selling Fact Sheet
How to determine a customer's objectives and key situational factors
How understand and use key customer-focused communication skills
How to prepare for and learn from each sales call through pre- and post-call analysis
How to conduct sales calls using proven four phase customer-focused sales process
How to effectively handle obstacles without feeling uncomfortable or adversarial
Preview a sample of the Customer-Oriented Selling workbook instantly.
Click on the "e" to immediately enroll and begin the Customer-Oriented Selling online course.


Employees who complete this course are eligible to earn college credit toward an associate's or bachelor's degree through the University of Phoenix.