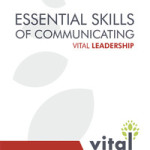 Full day or half day classroom or online. Preview this workbook immediately. 
Your ability to successfully communicate with your team members is critical to building strong relationships with your employees. These strong relationships, built upon mutual trust and respect are crucial in helping your team meet and exceed its goals. In addition, powerful relationships built upon effective communication can improve retention, heighten overall productivity, and increase profitability.
The Vital Learning Essential Skills of Communicating™ program helps supervisors, team leaders and managers ensure that communication with employees is a two-way process. Essential Skills of Communicating teaches managers the latest techniques for developing effective communication skills, thereby improving their performance and increasing the productivity of both the team and the organization.
What You Will Learn: Essential Skills of Communicating Fact Sheet
How to create a culture of open communication
How to communicate clearly and concisely
How to understand and manage your nonverbal communication
How to effectively communicate through listening
Preview the workbook immediately!
Click the "e" to immediately enroll and begin the Essential Skills of Communicating online course.


Employees who complete this course are eligible to earn college credit toward an associate's or bachelor's degree through the University of Phoenix.