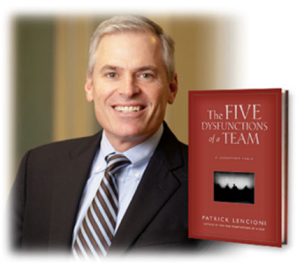 Are things working as well as they could on your team? Do team members fully trust each other? Can your team use conflict skillfully to create optimum results?
Pat Lencioni identifies the Five Dysfunctions of a Team in his blockbuster book.
Watch a brief message from Patrick Lencioni.
In 2013 Wiley, in partnership with The TEAM Approach and other organizations, began rigorously testing a process to combine the power of DiSC with Patrick Lencioni's team development model made famous in his best-selling book.  The result – The Five Behaviors of a Cohesive Team.  Take a look:
Register for a tour of this powerful team development process!
How it works:
As an Epic administrator (we set you up with an account), you set up a team project which will produce individual, personalized, reports for team members as well as an Annotated Team Report for a facilitator.
Each team member's feedback assessment has 3 parts:
A full Everything DiSC assessment using the latest Adaptive Testing response technology
A 20-question Team Survey that explores this team's current perceptions of where they are in Lencioni's 5 elements.
A Team Culture section that allows team members to provide feedback on how to improve performance on this team.
The information in the DiSC feedback is personalized to the individual.  The Team Survey and Team Culture data is aggregated anonymously to facilitate further discussion.
As the team goes through the process of learning how to Trust One Another, Engage in Conflict Around Ideas, Commit to Decisions, Hold One Another Accountable, and Focus on Achieving Collective Results, DiSC information provides practical, personalized, information for each team member at each step in the process.
Learn more about this team development process!
We offer three options:
a complete tour of the facilitation system usually held in our Lancaster office  (three-hours)
a virtual tour in a webinar format you can attend from your desk (one hour)
a briefing conducted by a member of the Wiley team (two hours)
Lancaster and virtual tours are free.  There is a $20 fee for the Wiley road show.
Visit the publisher's website.