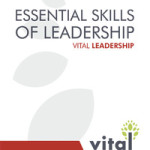 Half-day classroom, Online or Blended with 2 hour classroom skill practice session:
As a manager and team leader, your success is measured by the success and productivity of your team members. Your ability to inspire, empower, and motivate your team members is critical to their development. Helping your team members reach their potential creates a culture of success and engagement.
The Vital Learning Essential Skills of Leadership™ course is the preliminary step in developing successful supervisors, team leaders and managers. Essential Skills of Leadership teaches managers and team leaders contemporary techniques for effective leadership, which improves employee performance and increases the productivity of both the team and the organization.
What You Will Learn: Essential Skills of Leadership Fact Sheet
How to manage your team while enhancing team member self-esteem
How to effectively problem solve by focusing on team member behavior
How to encourage team member participation
Request access to our on-demand train-the-trainer session to explore this course in detail and access a demo copy of the workbook for the course.
Click the "e" to immediately enroll and begin the Essential Skills of Leadership online course.

Employees who complete this course are eligible to earn college credit toward an associate's or bachelor's degree through the University of Phoenix.