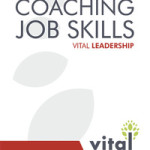 Half-day classroom, Online or Blended with 2 hour classroom skill practice session: Preview this workbook immediately!
Your team's performance is crucial to the success of your department and the organization. In order to ensure the success of your team, it is critical to help them build the skills and knowledge they need to excel, which ultimately leads to a stronger team.
Your ability to help and train your team members builds cooperation, encourages confidence, and creates a stronger and more successful team. Coaching isn't just showing your employees how to do something; it involves observing, analyzing, demonstrating, and providing feedback. Coaching is a proactive process of developing relationships with your team members.
The Vital Learning Coaching Job Skills™ course teaches team leaders and managers how to successfully coach team members in their jobs, as well as how to widen the breadth of team members' skill sets.
What You Will Learn: Coaching Job Skills Fact Sheet
How to identify team member difficulties that hinder team success
How to build improvement plans through observing and analyzing team member performance
How to effectively coach job skills
Preview this workbook immediately!
Click the "e" to immediately enroll and begin the Coaching Job Skills online course.



Employees who complete this course are eligible to earn college credit toward an associate's or bachelor's degree through the University of Phoenix.