Meet Stewart Levine and David Coleman, authors of Collaboration 2.0
Have you taken the plunge into the world of Web 2.0? If you have even put your toe into the water you will want to read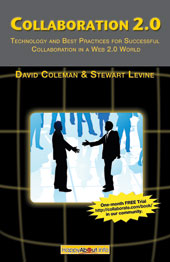 Collaboration 2.0. You Should Read This Book If you use any type of collaboration technology from IM/Chat to a virtual team space. The book is most beneficial for teams, groups, departments, cross-organizational teams and distributed organizations that are looking at some of the Web 2.0 technologies focused on communication, collaboration and interaction. Click here to download a PDF summary of the book.

Listen to the June 27, 2008 Bookends interview.




Purchase the book!

Stewart Levine is a "Resolutionary." His innovative work with "Agreements for Results" and his "Cycle of Resolution" are unique. "Getting to Resolution: Turning Conflict into Collaboration" was an Executive Book Club Selection; Featured by Executive Book Summaries; named one of the 30 Best Business Books of1998; and called "a marvelous book" by Dr. Stephen Covey. It has been translated into Russian, Hebrew and Portuguese. "The Book of Agreement" has been endorsed by many thought leaders; called "more practical" than the classic "Getting to Yes;" and named one of the best books of 2003 by CEO Refresher (www.Refresher.com) He consults to many government agencies, fortune 500 company's, professional associations and organizations of all sizes. He teaches communication and collaboration skills for the American Management Association. You can find more in formation about him at www.ResolutionWorks.com. You can reach him at ResolutionWorks@msn.com or 510-777-1166.
David Coleman, Founder and Managing Director of Collaborative Strategies (CS) www.collaborate.com, has been

involved with groupware, collaborative technologies, knowledge management (KM), online communities and social networks since 1989. He is a thought leader, frequent public speaker, industry analyst, and author of books and magazine articles on these topics. His comments and analysis are most frequently found in the "Collaboration Blog." He has worked with a wide range of collaboration vendors including IBM/Lotus, Microsoft, Macromedia, Adobe, Intuit, EMC and Oracle, and helped them with strategy, positioning, or demand generation projects. He also works with end-user organizations to help them select collaboration technologies, and most recently working with them on "collaborative consolidation" within the enterprise, building online communities and creating a variety of social networks. David also works with distributed teams (across organizational boundaries) to make them high-performance teams. He can be reached at: davidc@collaborate.com or at (415) 282-9197.